With some holiday leave coming up, my wife and I decided to go to Queensland for a warm break from the Sydney winter. After a little online research into Virgin and Jetstar packages, and booking directly, it was clear that going with a Jetstar package for the flight and hotel was several hundred dollars cheaper. The hotel on offer also looked quite good and only had availability for our dates when booked through Jetstar.
Tues 7 June
Went to the Jetstar site. The first time I tried entering our dates for the search, I got a message about the site being overloaded and please try again. I did so, and got to the next page, allowing me to customise flight times and choose accommodation options. The hotel we wanted to stay at had the same room type listed 3 times, at different prices. I had called Jetstar about this earlier in the day as I'd seen it, and been confused, when researching prices earlier. They had explained that it was the same room type – just if the cheapest price for the room type was already full, you would have to buy the next one up and so on. Following this advice, I chose the cheapest price for the room type offered.
I then tried to click the 'Reviews and Information' link which had worked earlier when I'd been doing the price comparison. This time, I got an exception message: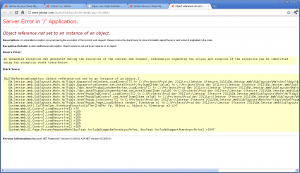 For the technical minded, you can see that the link from the package configuration page was faulty and did not include a 'hotelId' (bug?). Next, the hotel information page did not check the input parameters at all (bug and security risk) and exploded. Lastly, you can see that the Jetstar site has not been configured for production error messages. Instead, a developer error message was displayed which exposes implementation and technology details to the casual observer (security risk and poor user experience).
Somewhat concerned, I continued with the booking process. Choosing flights worked well, except I did wonder why one of the flight choices was listed as 4 hour duration, but left at 7am and arrived at 10am:


We next entered personal details for me and my wife. We had to try several times to submit the form as there must have been validation rules that our data was not meeting, but no error messages were displayed to help us. We fiddled around with the details we'd entered a bit (different formats for phone numbers etc), and then it finally worked.
Transitioning to the next page was very slow, but eventually came up with a chance to choose seats and travel insurance. My wife was sitting with me at the computer and we decided to choose seats. It was certainly not clear that we would have to pay extra for this. So I went ahead and chose some nice seats near the front of the plane (quick exit seats they were called) and then noticed that this would add an extra ~$64 on to the holiday cost! Realising our mistake, we chose regular seats a little further back. This was still an extra $16 on to the cost of the holiday. We tried everything we could think of to try and de-select our seat choices but could not find a way to do so that would actually stick (you could de-select temporarily but this could not be saved). Somewhat annoyed, we continued with the booking.
Next I entered my credit card details. It turned out there was an extra $30 booking and service charge that suddenly appeared at that point. Not happy but keen to finish the booking process, we next hit the pay button. The site took a while to respond and then reloaded the payment page, showing that there was a balance of $-907.40 with a proceed button below it. Quite a mystery. Had my credit card been charged? Had anything been booked? What did the mysterious $-907.40 mean?
I rang the call centre. Unfortunately it was either overloaded or down and I couldn't even get to the "Press 1 for English…" prompt. I waited 15 minutes and rang again. I left the phone on speaker and went on with other things. I was on hold for 54 minutes before I gave up and went to bed.
Wed 8 June
In the morning, I range the call centre again, and got through in about 20 minutes to the reservations section. I explained the situation to the customer service person and she found my booking. It turned out that flights were booked, the hotel was not booked, and my itinerary was not sent. I explained which hotel was meant to be booked and she went to talk to her supervisor. I was on hold for a further 30 minutes or so with a few other brief questions during this time. She was able to send me the flight itinerary without the hotel which she did. She was unable to help with the hotel booking, but sent an internal request to the holidays section and said they would call me back within 24-48 hours to help with the hotel booking. I asked if I had any assurance that the hotel was booked. She said I didn't have any assurance. I asked if there was any way to make this faster, as I needed to know if I should book my own accommodation. She sounded annoyed and said that there was nothing she could do, it was a different section of the business and she couldn't help me further, just wait for the phone call in 24-48 hours. I did receive a copy of the itinerary for flights without hotel within 24 hours as promised. Meanwhile I had tweeted to @JetstarAirways about the experience so far, and they asked for my booking reference via DM to expedite things.
Thurs 9 June
Finally received a phone call from Jetstar holiday section. The guy said that he had looked into the case and sorted out the hotel booking. Great news! I asked if he could do anything about the $16 seat booking charge from earlier, but he said that it was clearly explained on the site, and he couldn't do anything about it. He promised that the complete itinerary would arrive including the hotel booking within 24 hours and I gave him my email address (not sure why they didn't have it from earlier, I'd already received the flight itinerary via email).
Fri 10 June
Waiting for itinerary. It did not arrive.
Sat 11 June
Wondering what had happened, I rang the call centre again. This time, I didn't go on hold at all and got straight through to a helpful lady that confirmed my email address – it had been entered wrongly. That was probably why I hadn't got an email yet. She fixed the typo in my email address, and I received the complete and correct itinerary within 10 minutes. The booking process was now complete!
Conclusion
A transaction I had expected to take about 20 minutes booking through the site took about 4 days from start to end, including about 2 hours of time on the phone to the call centre. The Jetstar price was still good compared with other options, but the unexpected charges of $16 for choosing seats and $30 for booking fee were a major turn off. The bugs in the site (especially the validation of personal details without showing error messages) must lose many potential customers. The failure of the purchase process which left the customer confused but charged without services being booked was a major issue. The call centre delays were a time waster and the silo-ed nature of the business between flights and holidays made solving problems slower and harder. Jetstar's twitter account was potentially a help in resolving problems.
Post-Holiday Update
Happy to say that the flights and hotel worked well after all the booking was sorted out. Jetstar also upgraded us to a better room at the hotel which was a nice touch.